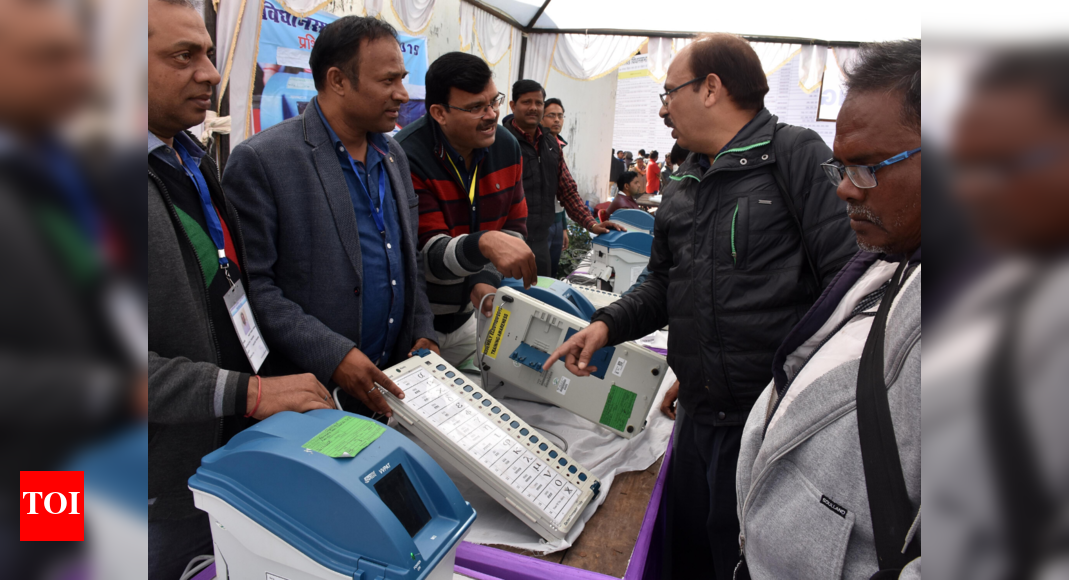 NEW DELHI: Electronic voting machines (EVM), the credibility of which was questioned by many political parties until as recently as 2019 Lok Sabha polls with some even demanding a return to the ballot paper system, have now received validation from a parliamentary panel which also comprised members of these very parties.
The department-related committee on personnel, public grievances, law and justice, in its report on demands for grants for 2020-21 passed unanimously and placed in the Rajya Sabha on Friday, praised the EVMs for eliminating invalid votes as well as delays and errors associated with counting ballot papers. So much so, it recommended that EC impress upon the state commissions to use EVMs and VVPATs available with ECI for paperless election to even local bodies for ease of the electors.
No Lok Sabha or Rajya Sabha MP from any opposition party represented on the committee submitted any dissent note against the observations or recommendations made in the report.
The panel chaired by BJP MP Bhupendra Yadav and comprising MPs from parties such as Trinamool Congress and BSP that had earlier demanded a return to ballot paper, observed that EVMs had "not only simplified the election process, but also quickened the pace of counting and ensured convenience for the voters".
The report said voter verifiable paper audit trail (VVPAT) to the EVM had strengthened the voters' trust and transparency of the electoral process. "The Committee also observes that the Supreme Court has also upheld the election conducted by EVM and VVPAT by dismissing a petition requesting for return to ballot paper system," it added.
The parliamentary panel underlined EC's "unequivocal" view that EVMs are tamper-proof and integrity of electoral process is well preserved with its use, accompanied with VVPATs, in the participatory democracy. "Booth-capturing and casting of invalid votes have become a thing of the past with the aforesaid digital revolution," it added.
The committee also recommended linkage of Aadhaar number with voter I-card, as sought by EC in a proposal sent to the law ministry last year, saying it would eliminate incidence of multiple entries in electoral rolls.
While pointing out that elections to Panchayati Raj institutions and municipal bodies were still held through ballot paper, the committee stated that the advancement of technology in election process needed to percolate to local bodies. "The Committee is of the view that election to local bodies should also be held through electronic voting machine accompanied by VVPAT," the panel said in its report.
ECI prototype of EVMs and VVPATs are currently used only for Lok Sabha and assembly elections.
Prohibida la reproducción parcial o total.  Todos los derechos reservados de Rubicon, Global Trade, Customs & Business Partnership, S.C., del Autor y/o Propietario original de la publicación.  El contenido del presente artículo y/o cualquier otro artículo, texto, boletín, noticia y/o contenido digital, entre otros, ya sea propio o de tercero alguno, publicado en nuestra página de internet u otros medios digitales, no constituye una consulta particular y por lo tanto Rubicon, Global Trade, Customs & Business Partnership, S.C., sus colaboradores, socios, directivos y su autor, no asumen responsabilidad alguna de la interpretación o aplicación que el lector o destinatario le pueda dar.