NEW DELHI: Union health minister Harsh Vardhan on Tuesday said that 300 districts in the country were unaffected by Covid-19. He added that another 300 districts had very few cases and 129 districts had hotspots.
"The government is focusing on these districts to contain the spread," he said. According to government reports that spell out Covid-19 status, there are 739 districts in the country. Vardhan also said no fresh case was reported in 80 districts in the past seven days and no case was reported in the last 14 days in 47 districts.
Coronavirus lockdown: Latest developments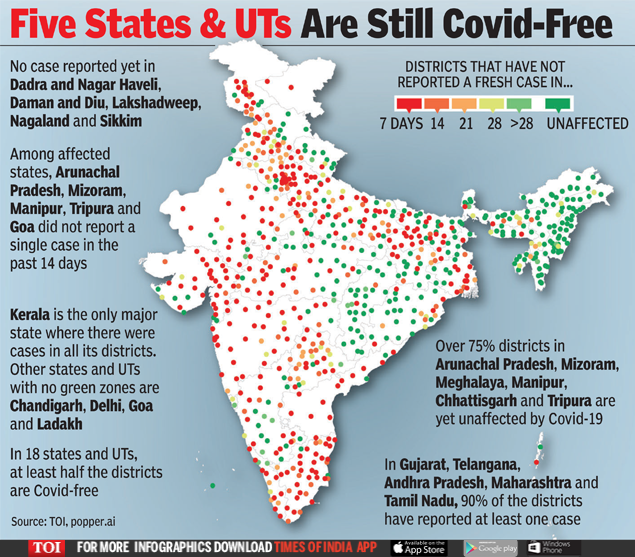 Thirty-nine districts had not reported a single case in the last 21 days and 17 districts had not reported a case in the last 28 days, he added. On the pace of spread, the minister said in the last 14 days, the doubling rate was 8.7 and in the last seven days, it was 10.2 days. In the last three days, the doubling rate was roughly 10.9 days.
Download

The Times of India News App for Latest India News

Subscribe

Start Your Daily Mornings with Times of India Newspaper! Order Now
Prohibida la reproducción parcial o total.  Todos los derechos reservados de Rubicon, Global Trade, Customs & Business Partnership, S.C., del Autor y/o Propietario original de la publicación.  El contenido del presente artículo y/o cualquier otro artículo, texto, boletín, noticia y/o contenido digital, entre otros, ya sea propio o de tercero alguno, publicado en nuestra página de internet u otros medios digitales, no constituye una consulta particular y por lo tanto Rubicon, Global Trade, Customs & Business Partnership, S.C., sus colaboradores, socios, directivos y su autor, no asumen responsabilidad alguna de la interpretación o aplicación que el lector o destinatario le pueda dar.